Company Logo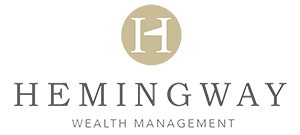 Email
info@hemingwaywealth.com
Disclaimer
Eric R. Hemingway, Richard Hemingway, and Derek Strong are Registered Representatives offering Securities and Advisory Services through UNITED PLANNERS FINANCIAL SERVICES, Member: FINRA, SIPC
Hemingway Wealth Management and United Planners are not affiliated.
This information is intended for use only by residents of Alabama, Alaska, Arizona, California, Colorado, Connecticut, Florida, Georgia, Iowa, Maryland, Massachusetts, Minnesota, New Jersey, New Mexico, New York, North Carolina, North Dakota, Ohio, Oregon, South Carolina, South Dakota, Texas, Vermont, Virginia, and Washington. Securities-related services may not be provided to individuals residing in any state not listed above.
The information on this site is being provided for educational purposes only. In no way is the information on this site to be deemed a solicitation to open an account or conduct securities transactions. The information herein is accurate and complete to the best of our knowledge. Information provided by third parties, while filtered for overt inaccuracies and misstatements, is the responsibility of the third party. The information on this site should not be your sole resource with respect to making an investment determination. Always discuss your personal investment objectives, risk tolerance, liquidity needs, financial situation, etc. with an investment professional prior to investing in any particular security or investment strategy. You should always consult a tax or legal professional for advice regarding your specific tax and/or legal situation. Past performance is not indicative of future results. All investing carries an inherent risk of the loss of principal.
14550 Excelsior Blvd, Suite 200
Minnetonka, MN 55345
United States
Company Description
We are dedicated to providing investment management and strategic wealth planning that is right for you. Simply put, we strive to be our client's trusted advisor.